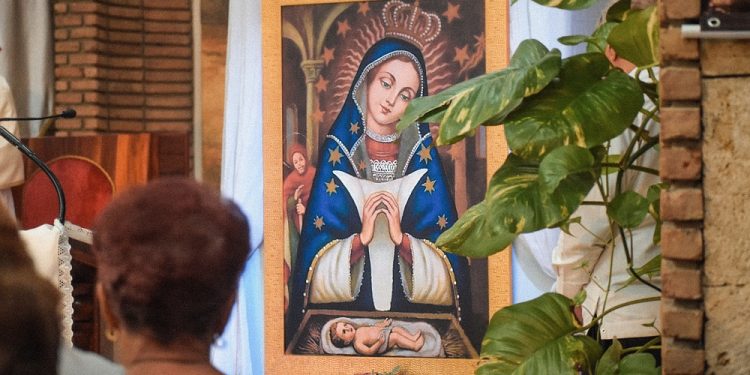 Our Lady Of Altagracia is the Patroness for the island of Hispaniola—an island that contains both the nations of the Dominican Republic but also Haiti. She is known as the Virgin de la Altagracia, or "Virgin of the Highest Grace."  January 21st is not only the feast day on which she's celebrated but is also a public holiday in Haiti and the Dominican Republic. 
The History Of Our Lady Of Altagracia
The story of this holiday goes back to a 16th-century merchant who liked to bring his daughter gifts from all of his travels. Before embarking on his next journey one day, his daughter asked him if she would bring home an image of the Blessed Mother. However, she didn't just want any image of her, but a specific one that she had in her dream. The merchant consented to the request and then head out on his journey searching for the portrait as he traveled. 
After several failed attempts at finding the image, he shared his troubles at an inn he was staying on his way back home to Higuey in the Dominican Republic. An elderly man overhead the story and presented him with a 13×18-inch image of Our Lady Of Altagracia. The merchant was overjoyed and took it home to his daughter for her to hang on her wall.
The merchant's joy would be tempered by the fact that the image disappeared in the night and reappeared in an orange tree grove. He brought the image back home but it kept disappearing in the night and returning to the grove. Eventually, a church built in that very same grove.
According to historians, the picture of Our Lady Of Altagracia was brought to the Caribbean island by two brothers, Antonio and Alonso Trejo, in 1502. It hung in St. Dionysus Church from 1571 until 1970 when it was moved to the Basilica of Our Lady Of Altagracia in 1970. Every year, almost a million people visit the basilica annually. 
The holiday had originally been celebrated during the 16th and most of the 17th centuries on August 15th, but the date was moved to January 21st in 1691 after the victory over the French in 1690. 
Observing Our Lady Of Altagracia
On this day, people travel to and congregate around the Basilica of Our Lady of Altagracia to catch a glimpse of the Blessed Mother. People also hold all-night vigils, pray, and lead candle processions. All throughout this day, people also attend masses and other religious ceremonies. It's also traditional to set up a feast table with an image of Our Lady Of Altagracia that includes candles, flowers, and sometimes oranges.