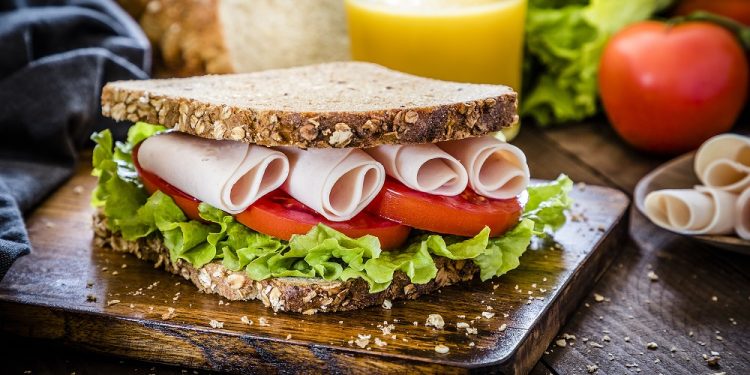 Sandwich Day is an annual nonofficial holiday that falls on November 3rd. This day is used to commemorate and celebrate a food that is not only synonymous with convenience but is also one of the world's most popular and loved food items. It's a perfect day to grab the type of sandwich you love or try one of the sandwiches that are popular in other parts of the world.
History of Sandwich Day & Sandwiches
Unfortunately, the origins of Sandwich Day are unknown and have been lost to the sands of time. Most likely, it was created by some sandwich shop that was looking to sell more products. However, the history of sandwiches is well documented.
The history of the sandwich can be traced back to the 18th century when John Montagu – the 4th Earl of Sandwich – put meat between two slices of bread. He did so because he was a heavy gambler and didn't want to leave the game he was in to eat dinner, so he ordered the servants to bring his food to his table.
By putting the meat between two slices of bread, he was able to continue his card game with his other hand while he ate. An act that may have been the biggest contribution to gastronomy since the creation of cheese
Sandwiches from Around the World
While most people are familiar with some of the more popular sandwiches (including the hamburger, ham and cheese, grilled cheese, tuna salad, peanut butter & jelly, and bologna sandwiches). There are an almost infinite variety of sandwiches out there in the world. While I can't possibly list all of them, I have listed some of the lesser-known sandwiches according to country, state, or city.
North American Sandwiches
Muffaletta Sandwich: Genoa salami, Mortadella, sliced ham, provolone, mozzarella, and Coppa piled high on an Italian round bread (preferably muffuletta), garnished with an olive spread and cut into rectangles. This sandwich is popular in New Orleans, Louisiana.
Shrimp Po'Boy: Fried shrimp served on a buttered bun and garnished with remoulade sauce, tomatoes, and pickles. This sandwich is popular all throughout Louisiana.
Gerber Sandwich: Garlic buttered French bread topped with ham, Provel (a native St.Louis cheese), and served toasted and open-faced. This sandwich was once popular in St. Louis, Missouri.
St. Paul Sandwich: Served on white bread, the St. Paul Sandwich is an egg foo young patty served with mayonnaise, lettuce, tomatoes, dill pickles, and white onions. A number of varieties can be found (beef, chicken, pork, and shrimp) and this sandwich is served at Chinese restaurants all over Missouri.
European Sandwiches
Leberkäse semmel: This is a sandwich that is made with bacon, beef, pork, and onion served on a semmel roll, made hot and often served with mustard. This sandwich can be found all over Germany.
Jambon Beurre: This sandwich is ham, cheese, and pickle served on a baguette. Found all across France.
Zapiekanka: Sauteed mushrooms, onion, and cheese served on an open-face baguette and baked in the oven. When it's cooled, it is sometimes served with ketchup. Can be found all over Poland.
Porilainen: This sandwich is pork sausage served on white bread and covered with veggies. It's garnished with mayonnaise, a garlic flavoring, and/or mustard or ketchup. It can be found all throughout Finland.
Asian Sandwiches
Vada Pav: This Indian sandwich featured battered, fried potatoes served between two buns and served with any number of different chutneys. It is a very popular street food in India.
Bánh mì: This sandwich is basically a baguette that is filled with vegetables, pork, jalapeno, and coriander. It is popular in Vietnam but is increasing in popularity in Europe and the United States.
Katsu-sando: This sandwich is thinly-sliced pork that is breaded and fried and served on white sandwich bread with mustard and mayonnaise. This sandwich can be found in Japan.
South American Sandwiches
Chacarero: This sandwich is sliced beef or turkey seasoned with peppers and served on a bun with cheese, tomatoes, peppers, and green beans. It's a very popular sandwich in Chile.
Choripán: This sandwich is a chorizo sausage placed into a bun and covered with a chimichurri salsa. Some variants of this Argentinian sandwich also place an egg on top.
Bauru: Basically a roast beef sandwich served on a French roll or baguette. It is often served with mozzarella, tomatoes, oregano, and gherkins. It can be found all over Brazil, particularly among street vendors.
African Sandwiches
South African Gatsby: This South African sandwich is a huge portion of bologna and french fries served on an Italian roll and garnished with lettuce, ketchup, and piri pir sauce.
Bunny Chow: This South African sandwich is a vegetarian curry served in a hollowed-out chunk of bread. Although curry is mainly used, other variations of this sandwich can include things like eggs, bacon, and sausages as well.
Celebrating Sandwich Day
The best way to celebrate Sandwich Day is by having one of your favorite sandwiches or choosing one of the million other sandwiches that exist in the world today. You can either have a sandwich for your main meal or if you're really adventurous, you can have a sandwich for every single day on this fun holiday.