The World's Best Caves For Spelunking, Just In Time For National Caves And Karst Day
Since the beginning of time, human beings have been fascinated with caves, and there's a good reason for that. Caves are beautiful and mysterious, and hold the promise of the unknown. They have managed to capture our collective imaginations as we wonder what strange and hidden worlds are waiting to be discovered.
Karsts are a form of landscape created when limestone and bedrock erode and create beautiful landmarks. Caves and karsts have always had symbolic and spiritual meanings for many cultures. They have been seen as sacred spaces and places for people to go to commune with the forces of the universe.
We've decided to go ahead and talk about the beauty and wonder of exploring caves because June 6th is observed every year as National Caves and Karst Day. To help do our part in inspiring people to begin this hobby, we thought that we'd take a few moments to introduce people to some of the best caves in the world for spelunking.
These caves are known for their exceptional beauty and for being unique environments for people to explore.
Reed Flute Cave (Guilin, China)
Located in Guilin, China, Reed Flute Cave is known as the "Palace of Natural Arts." It gained its name because there's a type of reed that grows outside of it, and this reed can be made into flutes. It's a cave that's been explored since the Tang Dynasty.
There are over 70 inscriptions that go back as far as 792 AD that can be found within it. For years, it was basically unknown to many residents in the area but was rediscovered during World War II as refugees escaped advancing Japanese troops.
Today, this cave is colored with multicolored artificial light, and there is a multitude of stalagmites and stalactites for people to see. Many of them are named according to the legends that are associated with them or to what they look like, so they have names such as Fish Tail Peak, Crystal Palace, and Dragon Pagoda.
Škocjan Caves (Kras Plateau of South-West Slovenia)
Comprising more than 4 miles of underground passage and having a total depth of 200 yards, this cave system has plenty to explore for the casual spelunker. It's known for its many waterfalls and one of the largest known underground chambers in the world. Scientists from all over the world study it for its unique karstic phenomena.
It has also been certified by UNESCO as a World Heritage Site due to the fact that the caves have great historical and cultural significance and have been inhabited since prehistoric times. Every year, the caves attract over 100,000 visitors, and tours are not only conducted in Slovenian, but also in English, German, and Italian.
Mammoth Cave (Mammoth Cave National Park in South-Central Kentucky)
Mammoth Cave is one of the longest cave systems in the world and the park which encompasses parts of it was first established as a National Park in 1941. In 1981, the site was named a World Heritage Site. In 1990, it was also named an International Biosphere Reserve, and in 2021, it was designated as a Dark Sky Park.
Mammoth Cave has more than 420 miles of passageway to explore. Tourists can also expect lighted tours of parts of the cave system that range from as short as an hour to as long as six hours.
Blue Grotto (Anacapri, Campania, Italy)
This is probably one of the more unique caves on our list because it's actually a sea cave that's situated on the island of Capri in Southern Italy. Sunlight shines through seawater and through an underwater cavern, and this causes the caverns to be illuminated in a mystical-looking blue light.
During the 18th century, the caverns were avoided by islanders and passing sailing ships because there were legends that it was filled with monsters and/or sea hags. It was rediscovered by the public during the 19th century when German writer August Kopisch was taken to the grotto by local fisherman Angelo Ferraro.
Nowadays, the caves can be visited by tourists, but even booking transportation to them can become pricey.
Fingal's Cave (Staffa, Scotland)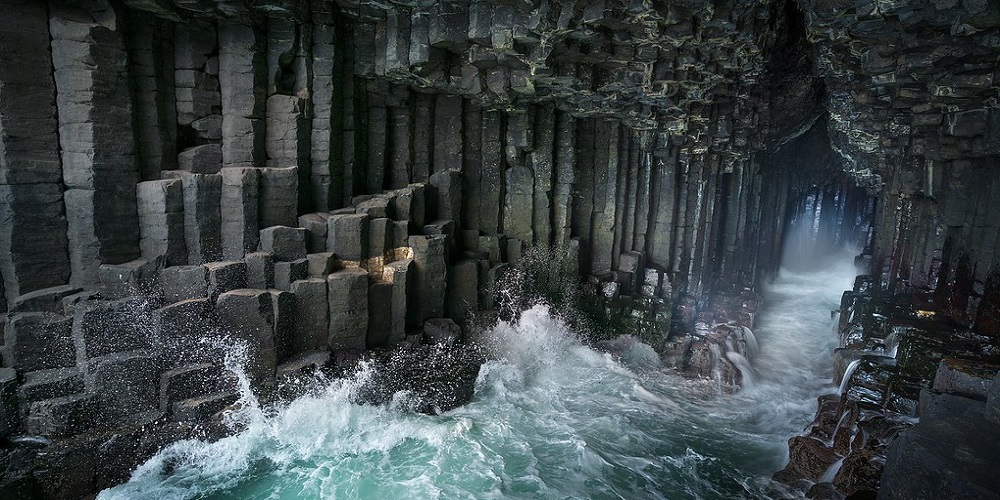 This is another sea cave on our list. It's located on the uninhabited island of Staffa, in the Inner Hebrides of Scotland. It's a part of the National Nature Reserves of Scotland and it's named after the eponymous hero of a poem written by James Macpherson.
This rugged cave was first discovered in 1772 and has been an important place in folklore and Scotland's culture. This cave is known for its fantastic acoustics, as well as its surreal and seemingly supernatural atmosphere.
Waitomo Caves (North Island Of New Zealand)
A surreal experience that no one should ever miss is a visit to the Waitomo Glowworm Caves. Located on the North Island of New Zealand, this cave is known for its population of arachnocampa luminosa — a species of glowworm that can only be found in New Zealand.
These worms light up in the caves in a way that gives them an almost supernatural aura. These caves are widely accessible to the public, and there are plenty of adventure and rafting tours for people to enjoy. Hopefully, the caves on our list provide everyone who is thinking about cave exploration some ideas of where to start.
Of course, there are thousands of amazing caves out there waiting to be explored, so we encourage everyone to find the ones they think they might be interested in exploring and find out more about them.