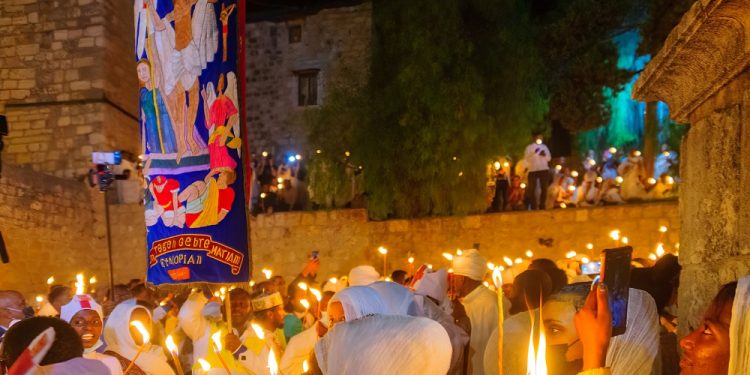 Ethiopian Easter is a religious holiday that's observed by Ethiopian Orthodox Christians. Also known as Fasika, it's a day of profound joy and one of spiritual renewal. It's a day that's observed with a variety of special traditions that include church services, the serving of traditional foods, and family gatherings.
As is the case in most Christian traditions, Fasika is one of the most important religious events on the Ethiopian calendar. It's also a day during which people end their traditional Lenten fast and give alms to the poor. This is a religious holiday that's a day of religious reflection and great joy for all Christians who celebrate it.
The History Of Ethiopian Easter
During the 4th century, the Ethiopian Orthodox Church was founded on a synodal level. Its first bishop was a Syrian named Frumentius who was brought up in the palace of Axum. He would travel to Alexandria and would return after being consecrated as a bishop by Saint Athanasius.
Through the centuries, the church would face great adversity and religious persecution but it endured. As it endured, the tradition of Easter survived with it and remained one of its most important celebrations.
This holiday is observed on a different day than Easter celebrated in Western churches because it's observed according to the Julian calendar and not the Gregorian calendar.
Observing Ethiopian Easter
On the morning of Easter Sunday, families will dress up in their finest clothing and attend church services. These services can last for several hours and they typically feature a reading of the Gospel accounts that relate to the Resurrection of Christ, special hymns, and the recital of special prayers.
After religious services on Easter, many Ethiopian Christians will end their 40-day Lenten fast by gathering with friends and enjoying traditional foods. These include Doro Wat (a traditional chicken stew), Injera (Ethiopian Flatbread), collard greens with ginger and garlic, and other such foods.
Word of this holiday can be spread using the hashtag #EthiopianEaster or #Fasika on social media. Easter is a significant religious holiday in Ethiopia and holds a very special place for Christians in that country.
This is not only a time of prayer and spiritual reflection, but it's also a time that's observed with the exchange of gifts, feasting, and family events. It's a holiday that's deeply rooted in tradition and is a testament to the enduring faith of the Ethiopian people throughout the centuries.