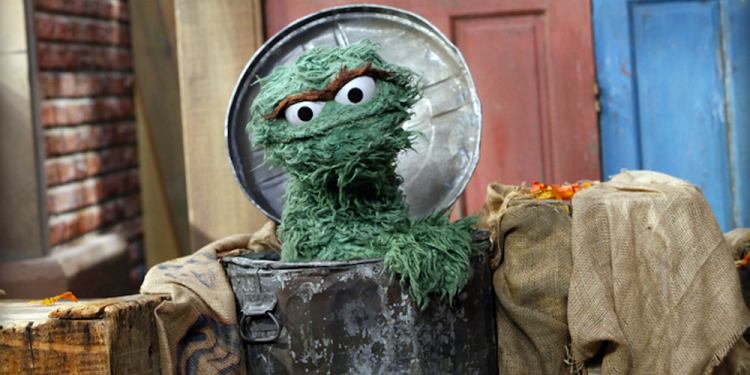 Most of the time being referred to as grouch would be something negative, but that's not the case on National Grouch Day. On this holiday, people are encouraged to be their truest grouch. This is a holiday that's observed on October 15th and reminds everyone that it's okay to occasionally be grouchy. After all, since we're all human, there are times when we're going to complain or are irritable—it's completely natural.
The History Of National Grouch Day
Most people assume National Grouch Day is a Sesame Street holiday. But why? Oscar's birthday is actually June 1st. Unknown to most, Sesame Street took credit for a holiday that was created by Chase's Calendar of Events in 1976. Bill, Harrison, & Helen Chase created Chase's Calendar of events in 1958, in Muskegon County, Michigan.
Grouch Day was inspired by their granddaughter Monica Moeller, (now Monica Moeller-Dufour, and also the founder of National Goof Off Day) who, as an 11-year-old 6th grader, came home constantly recounting tales about her mean, ornery, nasty, and down-right despicable teacher, Mr. Alan R. Miller, who gave far too much homework, and put kids in trash cans on their birthdays, as well as gave them birthday spankings with large wooden paddles. Remember, this was 1976, and all in good fun. Now that would never be allowed.
As a practical joke, Chase's Calendar of Events, and Monica, created National Grouch Day on Mr. Miller's birthday (October 15th) and named him the honorary President, and Chairman, of N.A.G. (National Association of Grouches). Since then, Grouch Day has been celebrated around the world to "honor a grouch; all grouches deserve a day to be recognized."
From that moment on, Mr. Miller's classroom became a zoo every year around his birthday, with each class inundated with phone calls from all over the world wanting to know just how mean and ornery their Grouchy Teacher actually was! Mr. Miller began receiving letters to the classroom addressed to N.A.G. all year round, which he then assigned students to respond to.
In addition to their responses, he began sending back certificates of membership to N.A.G. with each inquirer's name to expand his grouchy empire and inspire the next generation of Grouches!
Mr. Miller retired from teaching 6th grade in 2009, and with that, his, Monica's, and the Chase legacy became obscured all too readily by the corporate powerhouse of Sesame Street, and their beloved icon Oscar the Grouch.
Mr. Miller is still alive and well at the ripe old age of 75 (October 15th, 2021) in his hometown of Clio, Michigan. Chase's Calendar of Events, was sold to McGraw-Hill Education in 1988, who then sold it to Bernan Press (an imprint of Rowman & Littlefield) in January of 2015. Monica Moeller-Dufour lives in Davison, Michigan, and works as a Michigan Certified Assessing Technician as well as a Notary and Elections Coordinator for Genesee Township.
How To Observe National Grouch Day
There are several different ways for people to celebrate National Grouch Day, regardless of whether they're a child or an adult. Below are some ideas for things that people can do to celebrate this holiday and to encourage your inner grouch to come forward.
They can spend the day at home watching movies or posting their grouchiest social media posts using the hashtag #NationalGrouchDay. Or they can spend the day watching movies with grumpy characters. Below are some movies that seem like a perfect match for anyone observing National Grouch Day.
Movies With Grouchy Characters:
Gran Torino
Grumpy Old Men
The Life Aquatic with Steve Zissou
American Splendor
The Odd Couple
Watchmen
Bad Santa
Die Hard