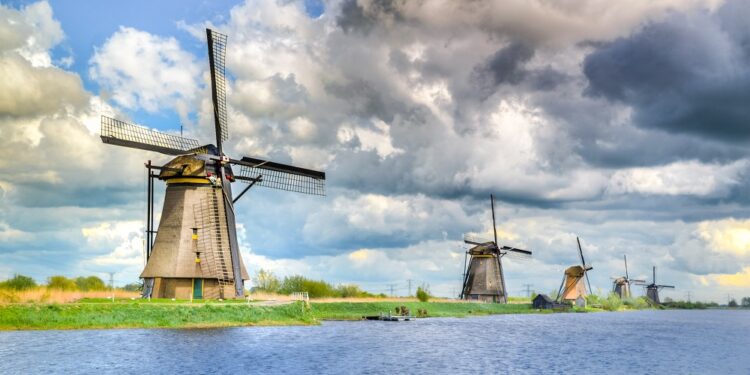 National Windmill Day is a holiday that's observed every year on the second Saturday of May. In the Netherlands, it's celebrated as a national day and it's a day when 950 windmills and watermills all across Holland open their doors to thousands of visitors.
It's a day that celebrates the mill and its importance in daily life through the centuries. Mills have been important for processing raw materials, manufacturing different products, and even reclaiming land.
Although mills are no longer the important economic tools they once were, it doesn't mean that they don't continue to fascinate us and instill in us an awe that can only come from standing face-to-face with history.
The History Of National Windmill Day
This holiday can be traced back to the 1990s when windmills were first opened up and promoted to the public. It was, and still is, an event that's coordinated by the wind and watermills section of the Society for the Protection of Ancient Buildings.
In Holland, this holiday is known simply as National Mills Day, but in other countries, similar events go by different names. For example, in Switzerland and Germany, Deutscher Mühlentag is observed on Whit Monday.
A Brief List Of Historic Windmills In The World
We were going to go over some of the windmills that exist in the Netherlands, but they have so many this article would never end. So we decided to do a brief list of some of the world's historic windmills. That way, we can pick and choose our favorites. Our list is below.
The 400 wooden Windmills of Öland, Sweden.
The windmills of Zaanse Schans in the Netherlands.
The Windmills of La Mancha in Spain.
The Bevo Mill in St.Louis, Missouri. (Windmill and Beer Garden).
Marsh Island Windmill in South Carolina.
Observing National Windmill Day
At mills all across the Netherlands, people can visit one of the almost 1,000 wind and watermills during the course of this event. That's the best way, in our estimation, for this holiday to be celebrated. Of course, this country isn't the only one that has historic landmarks that are worth investigating.
Historic windmills can be found the world over if a person knows where to look. While people are visiting many of these landmarks, they should take the time to post the pictures they capture of them online using the hashtag #NationalWindmillDay.