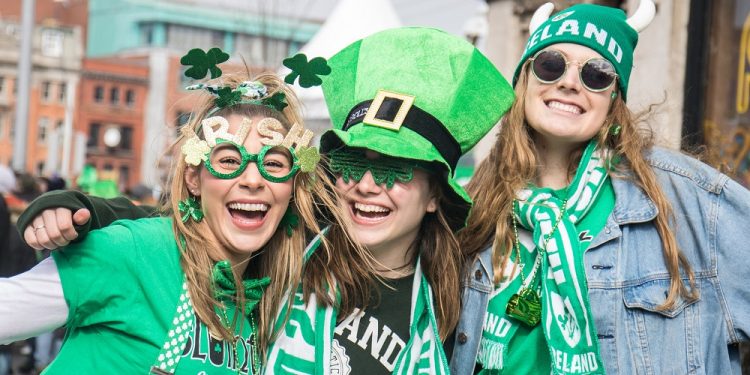 As children thoroughly enjoy many of the holidays throughout the year, St. Patrick's Day may very well be the adults' favorite. It is also a great time to learn about the mysterious and somewhat magical culture of Ireland. Read below to find out what makes St. Patrick's Day a favorite holiday of so many.
History
Around the year of 387 A.D., a baby was born in Scotland and was named Maewyn Succat. His parents were of Roman heritage living in Britain which at that time was under the rule of the Roman Empire. When Maewyn was about 16 years old, the village he lived in was invaded by Irish raiders. Maewyn was captured by these Irish raiders and sold into slavery. He was given the job of herding sheep throughout the woods and mountains of Ireland.
It was during his sheep herding years that Maewyn began intensely praying to God on a daily basis. He recited hundreds of prayers each day while wandering through Ireland and built an inner relationship with God. It was about six years after his captivity when he had a dream which he believed was from God. In the dream, he was directed to leave Ireland by way of the coast. Maewyn did escape and fled to Gaul.
Maewyn became a member of the church and studied many years to become a priest. After twelve years of instruction under St. Germain, Maewyn became a priest in the Roman Catholic Church. While studying and working in the church, Maewyn became known as Patrick. It was also during this time in which Patrick felt an inner desire to return to Ireland and convert the people to Christianity.
It was many years later, after Patrick was ordained a bishop, that his desire was fulfilled. He was sent to Ireland to preach the Gospel where he converted many souls to Christianity. But not all people were excited about Bishop Patrick's teachings. Many opposed him and on several occasions, the opposition sent Bishop Patrick to prison. Each time of his imprisonment, he somehow escaped. Stories and myths were spread over the land about Bishop Patrick, his teachings and his escapades. As a result, his popularity grew.
Bishop Patrick built many schools, churches and monasteries throughout Ireland which aided in the conversion of the Irish people to Christianity. It is told that Bishop Patrick used a three leaf shamrock to teach the Holy Trinity to those in Ireland. Each leaf on the shamrock was a representation of the Holy Trinity with one leaf as the Father, one leaf as the Son, and one leaf as the Holy Spirit. His use of the shamrock was to show how the Holy Trinity could exist separately but yet be as one.
Bishop Patrick taught in Ireland for about 30 years when he died on March 17th, 461 A. D. During his life, he lived in poverty while traveling humbly, teaching the Irish about Christianity. Today, Bishop Patrick is known as St. Patrick and March 17th is celebrated worldwide as St. Patrick's Day.
St. Patrick is the patron saint of engineers, Ireland and Nigeria. Green is the color used today in celebration of St. Patrick's Day. The association of the green color and St. Patrick 's Day can be traced as far back as the 17th century where green shamrocks were worn in celebration of St. Patrick's Day.
The first St. Patrick's Day celebration in the United States took place in Boston, Massachusetts in 1737. Today, St. Patrick's Day is celebrated across the United States with parades and other activities. A few of the United States activities include Chicago, Illinois, where the city dyes its river green; Savannah, Georgia, where the city dyes its fountains green; and Hot Springs, Arkansas, where the shortest St. Patrick's Day parade is held.
Countries all across the globe enjoy the festivities of St. Patrick's Day. The first St. Patrick's Day parade in Tokyo was in 1992 and has been celebrated each year since then. In Australia, all of March is a festival month with many days incorporating the St. Patrick's Day theme. Canada, Brazil, Italy, wherever one finds a wee bit of Irish, one will find a St. Patrick's Day celebration.
Celebrations Today
Chicago St. Patrick's Day Parade – On St. Patrick's Day, the Chicago River turns a brilliant Irish Green. Some might attribute this to the magic of a leprechaun! This event can best be viewed from Columbus Drive to Lake Shore Drive.
The World's Shortest St. Patrick's Day Parade – Located in Hot Springs, Arkansas, this annual event has hosted numerous celebrities as the Grand Marshal including Bo Derek, John Corbett, Mike Rowe and George Wendt. The claim of the event is that Bridge Street, the street that the parade travels over, is the shortest street in the World. The parade is officially only 98 feet in length!
South Boston Irish Parade and Pub Crawl – It would be difficult to discuss Irish culture without mentioning Boston. As one of the United States' largest St. Patrick's Day parades, this parade will be viewed annually by 600,000 – 1,000,000 people. Afterwards, celebrateurs can visit various Irish attractions around the city, or find Fish and Chips and a glass of Guiness at one of Boston's many authentic Irish pubs.
Dublin St. Patrick's Day Festival – Started in 1995, Dublin's St. Patrick's Festival was initiated by the government with the goal of becoming one of the largest St. Patrick's Day festivals in the world. The event is actually a multi-day event, and features fireworks, Irish music, rides, great Irish food and drink and more!