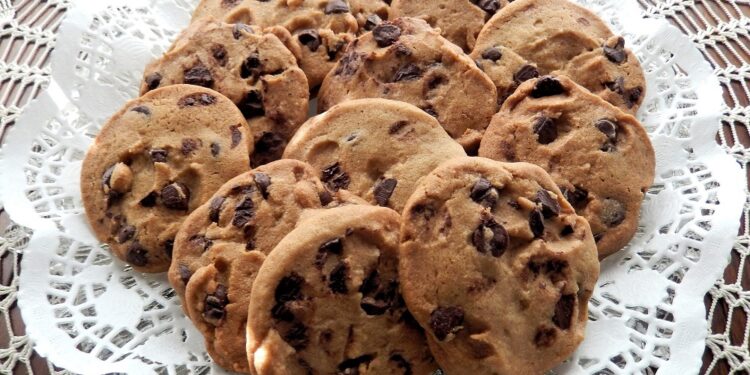 The Best Dessert Recipes To Enjoy For National Chocolate Chip Day that Aren't Chocolate Chip Cookies
Let us ask you a quick question: What's the first thing that you think of when you think of National Chocolate Chip Day? If you're like most people, then you're probably going to think about chocolate chip cookies. And why not? Chocolate chip cookies are an American staple and probably one of the best ways that people bake with chocolate chips.
We're just here to say they can make a wide variety of other desserts. Variety is the spice of life, so we feel that everyone could use some additional options for celebrating this day. With that goal in mind, let's take a look at some of the best dessert recipes to enjoy for National Chocolate Chip Day that aren't chocolate chip cookies.
The Best Chocolate Chip Cookie Ice Cream Bars
These are our personal favorites and a great way to ease people into thinking about desserts that use chocolate chips other than cookies. Okay, technically, this does have chocolate chip cookies in it, but it's just elevated to a whole other level. Let's check it out below.
Ingredients:
1 package of chocolate chip cookie dough at room temperature (use the break-and-bake cookies).
2 pints of vanilla ice cream, slightly softened.
¼ cup hot fudge sauce.
¼ cup coarsely chopped roasted peanuts.
1 regular-size Heath bar crushed into pieces (about 1.4 ounces).
Directions:
Heat oven to 350 degrees Fahrenheit. Spray a 9×13 baking sheet with cooking spray. Place all the cookie dough on the sheet, cover it with plastic, and roll it out so that it completely fills the pan. Remove the plastic and then bake the cookies until they're lightly browned. Set aside and let cool.
Remove the baked cookie sheet from the pan and trim the edges, if desired. Cover the sheet with ice cream in large dollops and then cover with a plastic sheet. Roll the ice cream across the cookie until it's spread in an even layer. Freeze for an hour or until the ice cream becomes firm.
Remove the plastic wrap. Now drizzle the hot fudge over the ice cream. Freeze it for another hour. Remove the cookie bar and cut in half crosswise. Place the cookie bar rectangles together to form a cookie bar and press hard to seal.
Wrap in plastic again and then freeze it for an hour. While it's firming up, combine the peanuts and crushed-up Heath bar. When the hour has elapsed, cut the ice cream cookie into 16 individual cookie bars. Press each side of the bar into the peanut and toffee mixture until it's coated. Use additional chocolate sauce if necessary to hold the mixture in place.  Serve the cookie bars immediately.
Chocolate Chip Zucchini Banana Bread
This is a classic that many people enjoy and it's the perfect use for chocolate chips. Trust us, this is a recipe that people are going to want to enjoy not just every May 15th, but all year round.
Ingredients:
1 1/2 cups all-purpose flour.
½ teaspoon baking powder.
1 teaspoon baking soda.
1 1/4 teaspoon cream of tartar.
½ teaspoon of kosher salt.
½ cup of canola oil.
2/3 cup of granulated white sugar.
1 large egg, beaten slightly.
1 cup of mashed banana.
1 cup of finely grated zucchini.
1 1/2 cups of chocolate chips.
Directions:
Spray a loaf pan with cooking spray and preheat oven to 350 degrees Fahrenheit.
Whisk together flour, baking soda, baking powder, cream of tartar, and salt in a medium-sized bowl. Set aside.
In a stand mixer, beat together oil and sugar. Add the egg and continue mixing. When completely incorporated, add the zucchini and mix on medium until blended.
Beginning with the flour, alternate the flour and mashed banana mixture, ending with flour.  Do this while mixing on low.
Add the chocolate chips and mix until incorporated. Then add the batter to the pre-greased loaf pan.
Bake for approximately 55 minutes, tenting with aluminum foil for the last 15 minutes to make sure the loaf doesn't overbrown. Remove from oven, and allow the bread to completely cool. When cooled, slice and serve with melted butter.
Banana & Chocolate Chip French Toast
Who loves French toast for breakfast? We've decided to include this great French Toast recipe that uses chocolate chips for all you breakfast fans.
Ingredients:
1 ripe banana.
1/2 cup chocolate chips.
4 slices of crusty white bread.
3 medium eggs.
1 tablespoon of heavy cream.
1 tablespoon of maple syrup.
1 tablespoon of vanilla extract.
1 tablespoon unsalted butter.
Ground cinnamon.
Directions:
Slice the banana into a bowl and mash with a fork. Add the chocolate chips and mix them together.
Lay 2 slices of bread on the counter and divide the chocolate and banana mixture between them. Make sure to spread it to the edge of each slice of bread. Lay another slice of bread on each one. Press them together. You should now have 2 "sandwiches."
Whisk together the heavy cream, eggs, vanilla extract, and maple syrup in a shallow bowl.
Melt the butter in a large frying pan over medium heat. Lay one of the sandwiches into the egg mixture to coat one side, then flip it over to coat the other side. Lower it into the hot frying pan and cook until golden brown — about a minute on each side. Do the same thing with the other sandwich.
Cut the sandwiches in half and sprinkle with ground cinnamon. Serve while hot with maple syrup, if desired.
Well, this concludes our post. We hope that the above recipes inspire you to celebrate this holiday with a little bit of style. Until we see you again, be safe out there, and be sure to stock up on plenty of chocolate chips for your pantry.