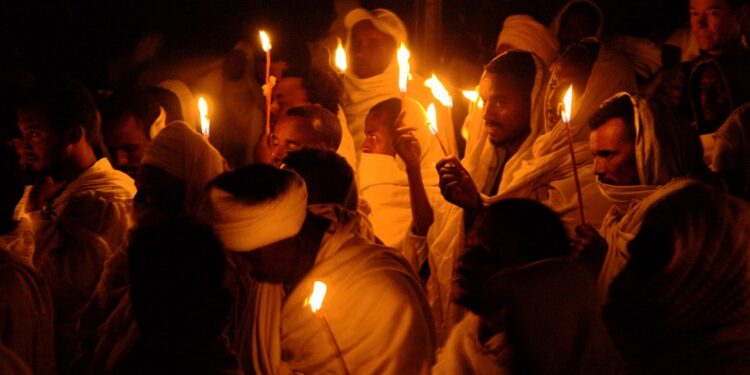 Ethiopian Christmas Day is a holiday that's celebrated by the Ethiopian Orthodox Tewahedo Church, as well as several Catholic and Protestant denominations in Ethiopia. It's observed annually on January 7th due to the fact that the calendar that the church uses was originally used by the Coptic Orthodox Church.
Christmas in Ethiopia comes at the end of a 43-day Advent fast known as the Fast of the Prophets that begins on November 25th. During that fast, only one vegan meal per day is eaten and eggs, wine, meat, or dairy aren't allowed.
When this fast is over, people enjoy Christmas Day with their friends and family in a number of different ways, some of which we'll now explore.
The History Of Ethiopian Christmas Day
Although the celebration of Christmas goes back to the very beginning of Christianity, it wouldn't be until the 4th century that the Ethiopian Orthodox Church was created. With the creation of the church, would also come the practice of celebrating Christmas.
As most people around the world know, Christmas is a holiday that celebrates the birth of Jesus Christ. According to the official story of Christ's birth, three wise men followed a star to find Jesus and present him with gifts.
This is why gift-giving is a major component of this holiday. Other traditions that are often included with this holiday come from ancient pagan rituals that traditionally celebrated the winter solstice and the sun's return.
Although Ethiopian Christianity has faced challenges over the years, particularly during times of political unrest or religious persecution, Christmas has remained a constant in the country. It has always been and likely will continue to be, one of the most cultural and religious celebrations in Ethiopia.
Observing Ethiopia Christmas Day
After the Advent fast, Christmas arrives on January 7th. On this day, people will often dress in white and attend religious services for the day. Priests will wear red and white robes and often carry fringed umbrellas that are embroidered.
Church services are usually attended in the afternoon, after which, there's a solemn procession.Every person is given a candle that represents the star of Bethlehem and then walks three times around the church in this procession.
Then each person comes to a full  stop and forms a circle. In that center circle, the church's priest then administers Holy Communion to the congregation. Thus begins a period of 12 games that is full of folk dancing, games, performances, and other festivities.
Many of the boys will play a holiday game that's very much like hockey. This hockey is played with curved sticks and a wooden ball. This game is called Ganna. This game is supposed to represent the shepherds tending to their flocks, but as we said, it's very much like hockey.
The men of Ethiopia also play a game called Yefaras Guks. The participants of this game ride horses and throw ceremonial spears at one another in an attempt to knock their opponents off their mounts. It's a game that's played with a lot of enthusiasm and can be dangerous.
Food is another major component of Ethiopian Christmas. After the 43-day fast, most people are ready for some traditional Christmas fare. Food that often includes Injera, an Ethiopian Flatbread, and Wat — a spicy stew that's full of meat and vegetables. The meal often concludes with a coffee ceremony.