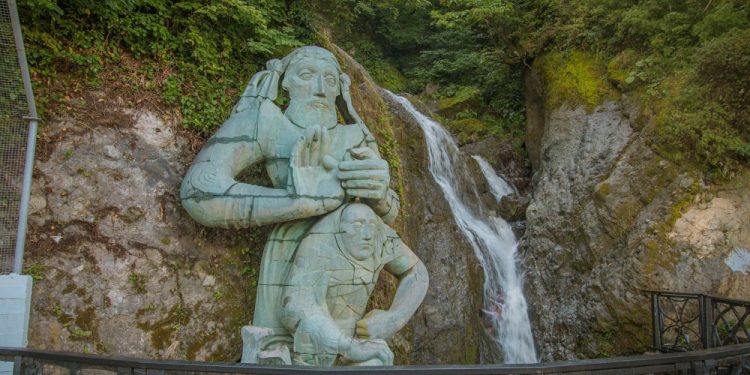 St. Andrew's Day in Georgia
St. Andrew's Day is a public holiday celebrated in the country of Georgia on the 12th of May every year. Also known as St. Andrew the First-Called Day, this day commemorates the saint who was the educator of Georgia and the first Apostle to be called by Jesus Christ.
He has been an important figure in Georgian history since ancient times and was the founder of the Georgian Orthodox Church. The church celebrates him twice a year, and this celebration marks the day when Saint Andrew arrived in Georgia for the first time.
This day is a day off for many people, and also a day when many schools, public offices, and businesses are closed.
The History Of St. Andrew's Day In Georgia
Saint Andrew was originally a fisherman like his brother and future saint, Peter. He is called the First-Called because he was the first of the 12 Apostles to be called upon by Jesus Christ.
According to the Georgian Orthodox Church, Andrew first arrived in the Ajara region in the southwestern portion of what is now modern Georgia. He spent his time in the region spreading Christianity and doing other such works. He even founded the Georgian Church.
While he was working in Patras in 60 AD, he baptized the wife and brother of Governor Aegeus. This made Aegeus mad and Saint Andrew was arrested and crucified on November 30th. This day would become his Feast Day.
Facts About Georgia
Below are several facts about Georgia that we feel that many people should know about. Georgia is a country that is the birthplace of wine but is probably most known for being mixed up with the U.S State of the same name. That's why we decided to list some of the names that we know about this country, so let's explore them below.
Georgia is located on the ancient Silk Road trade route, right at the crossroads between Europe and Asia.
This country is believed to have received its name from Medieval Christians who believed that St. George was the patron saint of the country.
It's believed that the first wine was produced in Georgia some 8,000+ years ago.
Observing St. Andrew's Day In Georgia
This is a day off for many people and a day when schools, government offices, and businesses are closed. Various religious services within the Georgian Orthodox Church celebrate this day and celebrate St. Andrew.
People also take the time to spend time with their loved ones enjoying Georgian dishes such as khinkali, lobio, gabbai, and dolmas. Word of this holiday can be spread online using the hashtag #SaintAndrewsDayGeorgia on social media.