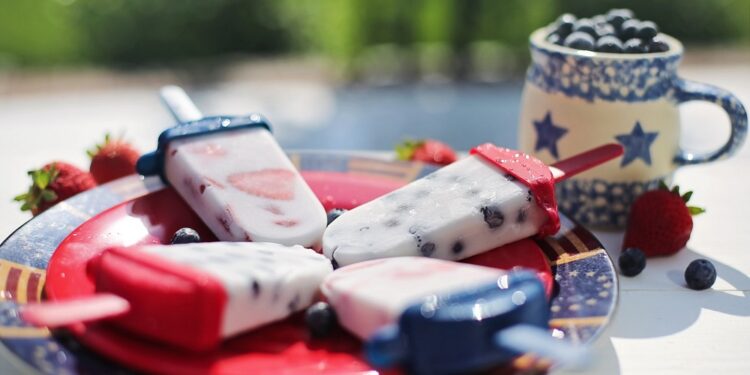 The Ultimate Foodie's Guide To The Best Summer Food Holidays
What do people think about when they think of summer foods? Well, we know that people probably aren't looking to spend a lot of time in a hot kitchen to whip up complex, heavy meals. Most people go for convenience foods during the summer months.
For some people, that may mean a diet that's full of fruits and veggies, but that doesn't always have to be the case. Easy-to-make foods such as burgers, hot dogs, and chicken wings can also be a summer staple, as can easy-to-eat treats such as watermelon and ice cream.
As we were writing this article, we thought about some of the foods that we love to enjoy during the summer months. Once we did that, we then began to search for holidays that celebrated these foods. What we came up with was the perfect list of summer food holidays.
Holidays that fall after June 22nd and before September 22nd, are right in the sweet spot of summer. We hope the following summer food holidays will inspire everyone to have a little bit of fun and not worry too much about what they're putting on the table.
After all, you're likely out and about enjoying the warm weather, so enjoy some foods that you can easily carry with you. With that said, let's begin this Ultimate Guide To The Best Summer Food Holidays right now.
National Bomb Pop Day (June 29th)
There are a lot of ice cream holidays that we can begin this guide with, but we thought that none of them could compete with the summer nostalgia of the bomb pop. Ever since the 1950s, ice cream trucks have traversed residential neighborhoods with their freezers full of red, white, and blue bomb pops.
These ice cream trucks played songs such as the "Cuckoo Waltz," "The Band Played On," "Camptown Races," or one of a hundred other different melodic chimes. Songs were a signal to the neighborhood children that not only were they going to be able to enjoy their favorite frozen treat, but that summer had finally begun.
National Barbecued Spareribs Day (July 4th)
Okay, this day also happens to be the 4th of July in the United States, but this is a guide to food holidays, so that's where we're going to maintain our focus. No summer celebration would be complete without these perfectly sauced pieces of meat.
Ribs are so perfectly cooked that they fall right off the bone and right into your mouth. There are many ways to make these ribs, but two of our favorites are St. Louis Style (rib tips removed and cut into a more rectangular shape that's then grilled) and Baby Back Ribs (11-13 long rib bones taken from a pig, not a cow). Mmm… they taste so good.
National Hot Dog Day (July 23rd)
Yes, we know that hot dogs often get a bad rap as being unhealthy, and we agree that people shouldn't be eating hot dogs every single day. However, as a summer food, it's near perfect. They're easy to carry around a ballpark or amusement park, and they're easy to heat up at family get-togethers, picnics, and barbecues.
Although most people can't agree on what toppings should be placed on a hot dog, we think that everyone will agree that these little tubes of meat deserve a seat at our summer tables.
National Chicken Wing Day (July 29th)
As the popular saying goes: "It ain't no thang but a chicken wing." What does that mean? That means that many people might consider this holiday to be unimportant, but we consider it to be one of the most important summer holidays.
Plus, chicken wings are easy to make and can be used in a variety of recipes. Some of our favorite chicken wing recipes for summer include BBQ Peach Grilled Chicken Wings, Roasted Asian Chicken Wings, and Baked Lemon Pepper Chicken Wings.
National Ice Cream Sandwich Day (August 2nd)
Okay, we can debate later whether an ice cream sandwich is proper food or not. For the purpose of this guide to summer foods, we're going to make a provisional ruling and say that it is. With that settled, let's all enjoy a dessert that's sure to provide us with a respite from the intense August heat.
There are a variety of ways to enjoy these desserts, but some of our favorites include Cookies and Cream between Chocolate Chip Cookies, Butter Pecan Ice Cream between Fudge Brownies, and the classic Vanilla Ice Cream between two Chocolate Wafers.
National Watermelon Day (August 3rd)
We told y'all that we were going to cover some fruits and vegetables in this summer guide, and we have delivered. We believe that watermelon is probably one of the best fruits for summer. It's over 90% water, tastes great, and is a welcome addition to any BBQ, picnic, family reunion, or pool party.
And since it only has 46 calories per cup, it allows everyone to eat more BBQ and drink more beer. Oh, and don't forget that watermelon can be used to make some incredible foods and drinks such as Watermelon Salads, Watermelon Rind Tzatziki, and Watermelon Mint Mojitos.
National S'mores Day (August 10th)
Anyone who has ever been in the Boy Scouts or Girl Scouts probably are familiar with making S'mores by the campfire. But you don't have to have been in one of these organizations to enjoy roasted marshmallows and melted chocolate sandwiched between two graham crackers.
They literally taste like summer. And, while we're on the subject, do you want to take your S'mores to the next level? If you do, then try adding shredded coconut to them. We call them Toasted Coconut S'mores, but you'll probably call them heaven on earth.
National Fajita Day (August 18th)
Some people might not consider fajitas to be a summer meal, but we do. After all, it's mostly filled with peppers and onions, with a little bit of sliced meat, and is easy to eat thanks to its tortilla wrapping. Fajitas are easy to carry for a picnic or get-together, too. Just make sure to keep the filling separate from the tortilla until you're ready to eat it or the tortilla will get soggy.
National Double Cheeseburger Day (September 15th)
Nothing says summer more than a double cheeseburger, especially one that's dripping with American cheese. It's decadent, easy to carry, and can be ordered from just about any fast-food restaurant under the sun.
Some of our favorite drive-thru favorites include Wendy's Dave's Double, Burger King's Double Whopper, Jack-In-The Box's Ultimate Cheeseburger, and McDonald's Double Cheeseburger. All are great to grab on the way while you're heading to your favorite swimming hole.
National Punch Day (September 20th)
We're going to conclude our guide to the best summer foods by including what many people will consider to be the most humble food on the list: punch. Why did we include this drink on our list? Well, it can be used to make a variety of different refreshing summer drinks including Summer Vodka Punch, Pineapple Punch, Lime Sherbet Punch, and Lemonade Punch.
Having one of these is a great way to end the summer season, and is also a great way for us to conclude this article. Now, go out there and enjoy some summer fun!